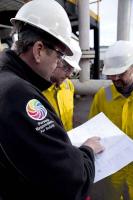 The Health Safety Security and Environment (HSSE) team at joint integrity specialist Hydratight has announced a new record low in Total Case Incident Rate (TCIR). TCIR calculates the number of work related injuries per 200,000 hours of exposure to employees over a 12 month period.
The global rating of 0.24 is the lowest since records began 20 years ago and is an encouraging marker in the international company's drive towards zero.
It beats the historical best figure of 0.30 which was recorded in back to back months in 2010 and is part of a long-term sustained improvement since the mid-1990s. Hydratight's ultimate result from its Goal Zero scheme is zero quality defects, zero environmental incidents and zero injury or damage.
Dave Stout, Global HSSE Leader, Hydratight, says, "This achievement is significant because the industries we work in expose our employees to some of the most hazardous locations and processes. Yet as a team we have proved again that safety is a priority and central to the values of the organisation. It is a reflection of the organisation's overarching belief in getting it right first time when completing client projects, no matter how challenging. As an industry we should never relent in our efforts to improve. At Hydratight the challenge is to maintain and improve even further. Goal Zero is not just a logo for safety and environmental activity within the organisation but a statement of intent."