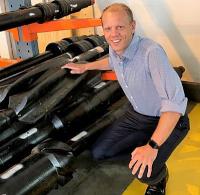 The UK operation of an undisclosed supermajor has awarded HydraWell a frame agreement to provide technology and services for all of the operator's plug and abandonment (P&A) and well repair operations on the UK continental shelf.
In principle this means that the supermajor has selected HydraWell's HydraHemera second generation high pressure Perf, Wash & Cement, PWC® jetting system as their chosen technical solution for wells that will be plugged and abandoned or for re-establishing the integrity of wells that do not have sufficient barriers. The technology can be applied in both single and multiple casings.
The frame agreement is valid for 3 years, with two additional 1-year options (3+1+1). The operator also has a contract option to extend the use of HydraWell's technology to all of its operated assets world-wide.
"Last year, the client in question utilised our technology on three wells. Afterwards they approached us about entering into a frame agreement. We cannot think of any better endorsement from a client. The fact that another supermajor gives us their seal of approval makes this agreement even more special," says Mark Sørheim, CEO of HydraWell.
HydraWell has developed the patented PWC®-technology (perforate, wash and cement) that plugs offshore wells in 2-3 days, compared to the traditional method of section milling which takes considerable longer time to complete.
"The essence of our technology is to enable operators to save huge amounts of rig time as well as to reduce their HSE risk and environmental footprint from not having to bring swarf cuttings topside," says Sørheim.
HydraWell has installed their PWC® system in more than 200 applications worldwide with the company's unique P&A technology.
HydraWell UK Ltd will manage the contract out of its office and workshop in Dyce, Aberdeen, UK. HydraWell's headquarters are based in Stavanger, Norway.