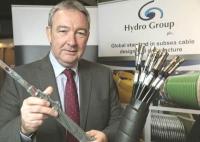 Subsea cable and connector specialist Hydro Group has teamed up with mechanical engineering group EnerMech to launch an innovative new product offering to the market.
In response to significant customer demand, Hydro Group and EnerMech have combined expertise to deliver a new hydraulics hose product, offering lay-up and over-sheathing of hydraulic hoses for use in umbilical, topside and well intervention projects in the oil and gas industry. The partnership could generate in the region of £500,000 in the next 12 months.
Graham Wilkie, Sales Director at Hydro Group said: "Building on three decades of proven capability and industry experience at Hydro Group, we know collaboration, diversification and innovation are key to surviving in challenging markets. Knowledge sharing with EnerMech has resulted in an important market offering which brings together expertise from both companies."
The bundled hose, which are available in ¼" to 2" size from Hydro Cable Systems, a Hydro Group company, integrate hydraulic components with electrical and fibre optic cables, resulting in a more compact and easier to handle assembly.