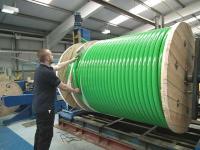 Sales Director, Graham Wilkie of Hydro Group plc, a global design and manufacturer of underwater cables and connectors for subsea, topside and harsh environment applications, details how they have stayed ahead in the rapidly changing subsea cable market.
Thanks to the low oil price, the subsea sector is enduring a challenging period. Operators are being forced to venture into more remote and harsher locations, requiring top tier equipment to meet demanding and dynamic environments.
Systems being deployed require reliable power and communications connections suited to meet these demands. Today, the team at Hydro Group are being asked more and more for increasingly complex composite and physically demanding cable designs, the days have gone when the company was simply asked to provide an underwater electrical connection.