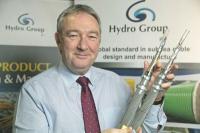 Aberdeen based Hydro Group will unveil new machinery and subsea cabling capabilities at the Subsea Expo in Aberdeen this month.
As the only company in Scotland with this bespoke subsea cabling offering, which enables Hydro Group to offer cable products that will improve and support subsea operations, showcasing these capabilities at the largest annual subsea event in Europe, provides the ideal platform to launch this new offering to the market.
Graham Wilkie, Sales Director at Hydro Group said: "Having recently invested a six-figure sum on new state-of-the-art multi-layered steel armoured cabling machinery, it was important to identify the right opportunity to showcase this significant addition to our current capabilities and how this can enhance the quality of work we produce.
"The Subsea Expo has grown significantly in recent years, and as an Aberdeen headquartered company that continues to develop products from prototype concept through to design and manufacture in Scotland, the show represents a good opportunity to bring these new capabilities to a large target audience."