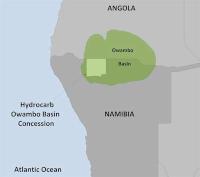 Hydrocarb Energy Corporation has commenced an Environmental Assessment program on its 21,300 sq km (5.3 million acre) Owambo Basin concession comprising blocks 1714A, 1715, 1814A, 1815A in northern Namibia adjacent to the Angola border.
Results from a recently flown aerial gravity and magnetics program have identified 16 new structural leads which will be the focus of a regional exploration 2D seismic program in 2014-15. Approximately 15% of Hydrocarb's 21,300 square km (5.3 million acre) concession has been explored with modern 2D seismic data to date.
Netherland, Sewell & Associates, Inc. (NSAI) has assigned 1.1 billion barrels of unrisked potential in-place oil resources in the Oponono Prospect located in a portion of the concession. Unrisked potential recoverable oil resources from this single prospect range from 46 to 295 million barrels of oil (MMBO).