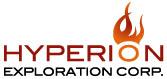 Hyperion Exploration Corp. has appointed Mr. William (Bill) Cromb as Chief Financial Officer of the Company effective July 14, 2014.
Mr. Cromb is an experienced financial executive with over 30 years of varied finance experience. He is a Chartered Accountant with a background including reporting, financings, treasury, risk management, mergers and acquisitions and other finance and administrative functions.
He has served at Provident Energy Trust, Beau Canada Exploration, North West Upgrading, Canterra Energy as well as other organizations.