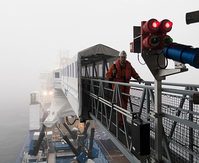 The Ampelmann Icemann gangway system has reached a milestone 10,000 transfers since its arrival in Eastern Russia to transfer personnel working on offshore platforms under the Sakhalin-2 project. Developed by Ampelmann, the global leader in offshore access solutions, it is currently the only gangway system of its kind able to operate in remote and extreme cold climate.
The N-type gangway, nicknamed "Icemann" has been installed on the Stepan Makarov, a new ice-class platform standby vessel built for the Sakhalin-2 project under a 20-year charter between Sakhalin Energy and vessel operator, Sovcomflot. It is the first standby vessel in the world to use such a gangway for operations in severe ice states and temperatures.
"The Icemann was born in response to a growing demand for safe and effective transfer equipment in frontier regions," says Arnoud van Leer, senior motion control engineer with Ampelmann. "It is purpose-built to service remote and extreme cold climate oil and gas operations in areas such as non-Arctic Russia, Norway and Canada, as well as regions of the Caspian Sea. We worked closely with Sakhalin Energy over a period of two years to tailor the system to the unique requirements of the project."
Built in The Netherlands, it is designed to safely and efficiently transfer crew in extreme ice states and temperatures as low as -28° C (-18° F). The fully enclosed and insulated system is operational in sea states up to 3.5 metres (m) significant wave height and comprises active motion compensation. The transfer deck can accommodate up to 20 people and can rotate 360 degrees to ensure flexibility in platform landing locations and directions. It has a maximum gangway length of 32 m, a telescopic scope of 11 m and a footprint of 11x11 m.
"Given the remoteness of the work, it was crucial to ensure that any maintenance required to the gangway system was minimised and this was reflected in the design. Various extreme weather technologies were employed in the design of the Icemann, making it the most high performance gangway system that has ever been built from an operations and conditions point of view."
Before leaving Ampelmann's manufacturing facility in Delft, The Netherlands, the Icemann was successfully tested offshore in the North Sea. The system successfully compensated its first waves while company operators evaluated the performance of the system. Following completion of the trials, the Stepan Makarov arrived in Rotterdam for the system mobilisation, which was completed in a matter of days.
In addition, Sakhalin Energy will charter a standard, non-winterised version of the motion compensated gangway for five years, to be installed on a second ice breaking support vessel, the Fedor Ushakov, and to support the personnel transfer requirements during the summer period.