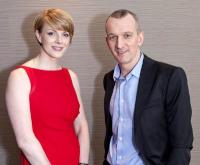 Oil and gas industry body, the Intervention & Coiled Tubing Association (ICoTA) European Chapter, has appointed a new chair and vice-chair.
Former vice-chair Kelly Murray will take the helm as chair of the organisation, becoming the first women to do so in the chapter's 20-year history, while fellow committee member Andrew Louden has been appointed as the new vice-chair.
Mrs Murray becomes chair after spending five years as an ICoTA committee member where she has played a pivotal role increasing awareness of the organisation within the industry and the wider community. Most notably she has played a vital role in organising the SPE ICoTA Junior Energy Apprentice competition aimed at encouraging school pupils to think about a career in the oil and gas industry.
Both appointments were announced at the ICoTA European Chapter's annual dinner at the Marcliffe Hotel, Aberdeen, attended by more than 300 leading figures from the region's intervention and coiled tubing industry.