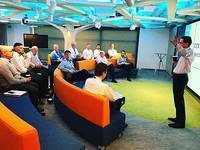 The European Chapter of the Intervention and Coiled Tubing Association (ICoTA), has (Tuesday 10th October) revealed the finalists of the prestigious annual Innovation Award.
Following a record number of applications, a panel of independent judges had the difficult task of shortlisting 3 different innovations, looking specifically at new technologies or existing technologies being used in an innovative way, how they are being applied, and the value that they are currently bringing to the industry. The winner will be announced at the 2017 SPE ICoTA European Well Intervention Conference on 15th November.
Steve Moir, Chair of ICoTA European Chapter says, "The judging panel have once again been extremely impressed by both the quantity and quality of applications for this year's Innovation Award. Selecting a shortlist of 3 companies was extremely difficult, and this year's process has once again highlighted the excellent work that is being done to push the boundaries in well intervention and coiled tubing technology. We are delighted to announce that this year's finalists are: Archer, Altus Intervention, and Well-SENSE technology Ltd. On behalf of the chapter, I would like to take this opportunity to congratulate all of this year's finalists, and we now look forward to revealing the winner at the conference in November"
Duncan Troup, Global Product Champion, Archer says, "The ICoTA Innovation Award is one of the highest accolades that an oilfield services company can win in the oil and gas industry. Archer, together with our development partner C6 Technologies, is delighted that IcoTA has recognised the merits of the ComTrac® composite rod intervention system. The nomination as a finalist is a tribute to the years of hard work developing and qualifying the technology, and an acknowledgement of the enhancements in efficiency that our composite conveyance system will bring to the well intervention market."
Stuart Murchie, EVP Technology Commercialization, Altus Intervention says, "We at Altus Intervention are delighted to have been selected as a finalist for the 2017 ICoTA Europe Innovation Award. Winning this coveted prize for the PrecisionExpander would be a tremendous honour as well as a fitting recognition of this ingenious technology – its rapid engineering development, its precise, controlled and flawless operational execution, and the massive value it's application has repeatedly delivered to the customer."
Dan Purkis, technology director of Well-SENSE Technology says, "We're delighted to have been shortlisted for the ICoTA innovation award. Our disposable, fibre optic technology challenges the traditional wire-line and electric-line approach to logging wells. We look forward to working with ICoTA – and its members – as we start rolling out our new suite of tools and disrupting the cost base of intervention in the North Sea and beyond."
The SPE ICoTA European Well Intervention Conference takes places at AECC on 15th and 16th November, and welcomes presentations from over 30 industry experts, accompanied by an exhibition with 40 exhibitors showcasing the latest well intervention innovations and solutions.