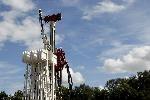 Andrew Austin, Chief Executive Officer and co-founder of the Company, has decided to step down from the Board and hand over to his colleague and Chief Financial Officer Stephen Bowler. The Board is pleased to announce the appointment of Stephen Bowler as Chief Executive Officer.
Andrew will work with Stephen and John Blaymires, Chief Operating Officer, to ensure a smooth transition.
Commenting today, Andrew Austin said: 'I have been at IGas for more than ten years.
Commenting on Andrew's departure Chairman, Francis Gugen said: 'Andrew and I have worked together since the founding of the Company. He has skilfully led IGas through a series of transformational deals which places the Company at the heart of the shale gas opportunity for Britain. On behalf of the Board, I would like to thank Andrew for his diligent commitment over the years and wish him well for the future.'