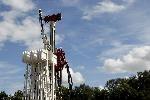 Following the admission of the consideration shares to trading on AIM, the Board of IGas says that the final condition to the scheme of arrangement has been satisfied by the Admission of the new IGas shares to AIM and that the acquisition of Dart Energy Limited completed earlier today.
Small shareholder sale facility and ineligible overseas shareholder sales in the market
Elections by small shareholders (whose holdings of IGas shares may have been economically unrealisable) amounted to a total of only 140,207 new IGas shares, a further 22,895 new IGas shares were due to be issued to ineligible overseas holders. The aggregate of these shares are being sold by Jefferies for the benefit of the underlying holders.