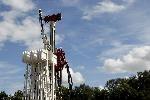 IGas Energy provides results of its exploration well at Barton Moss and, following the acquisition of Dart Energy, revised shale GIIP estimates for the enlarged group.
The Barton Moss well was drilled as an exploration well in PEDL 193 in the North West of England, with the original key objectives of fulfilling the 13th Licence Round commitment obligation, assessing the CBM potential of the area and delineating the deeper Dinantian limestone horizon to better calibrate the pre-existing seismic interpretation which has confirmed our interpretation of the basin and so informed our 14th onshore licensing application accordingly.
The well, which was completed in March 2014, was successful in achieving all of these objectives and the results have helped refine our geological models and are consistent with our overall basin depositional model.