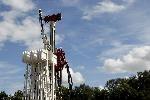 IGas has been offered a total of 6 new licences, covering 7 blocks, in the first group of licences awarded in the UK's 14th Onshore Oil and Gas Licensing round.
These licences are located in the Gainsborough Trough in the East Midlands and include exploration prospects for both shale gas and conventional oil and gas, close to where the Company already has existing operations. We currently operate 80 sites in the area, many of which have been in production for over 20 years.
Blocks SE41e, SK49, SK89e, SK88b and SK87c have been offered to a joint venture comprising IGas, Total E&P UK Limited and Egdon Resources plc. Total will have a 50% interest and Egdon a 15% interest. IGas will be operator of the licences with a 35% interest.
IGas has also been offered blocks SK99a and TF18b and would be the operator with a 100% interest.