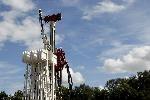 IGas has spudded the well at Ellesmere Port on Saturday 15th November.
The well, which is a vertical exploration well, is the next to be drilled in a sequence designed to give IGas a suite of results from a number of wells distributed across the Company's licenced areas in the North West.
This programme is designed to validate the geological model and has already given us valuable data to evaluate the potential and begin to plan for future development.
The bulk of the current 2D seismic acquisition, in the North West, has been completed.