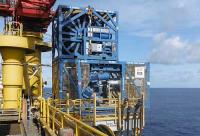 IKM Cleandrill AS has been awarded a contract by Wintershall Norge AS to provide mud recovery services on multiple offshore wells. The contract will cover potential development drilling campaigns on Maria, as well as an option for future exploration drilling.
The Maria development drilling from the rig Deep Sea Stavanger is scheduled for 1st half 2017, where the wells will be drilled using the top-hole mud recovery technique.
IKM Cleandrill will provide the MRR500 top-hole mud recovery equipment and specialist offshore operational personnel to undertake these services. The MRR500 is the latest generation mud recovery technology, setting market leading standards for safety, efficiency, reliability, and cost effectiveness.
The contract is for an initial period of 3 years, with options to extend to 2023.
Tom Hasler, Managing Director of IKM Cleandrill, states, "This contract win is extremely important for IKM Cleandrill, and we look forward to continuing our excellent relationship with Wintershall in Norway. The MRR500 system was developed to increase the attractiveness of mud recovery to a broader market, and this win rewards the technology advances and cost reductions that have been achieved. We thank Wintershall for becoming a repeat client for IKM Cleandrill's services and look forward to providing excellent service quality for many years under this contract."