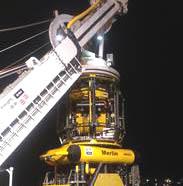 IKM Subsea has been awarded a contract by Eni Indonesia to provide ROV services onboard the Drill Rig Scarabeo 7, operating in Indonesia for drilling various Exploration and Completion wells. The contract value including options is in the region of 16 million USD (100 million NOK) and duration term is firm for 2.5 years.
Ben Pollard, Managing Director of parent company IKM Subsea says: "We are especially pleased to be awarded such a big contract in a new market for us such as Indonesia. It is a complement to our organization that state of the art equipment built in Norway, can be competitive and be awarded for work in South East Asia"
Equipment for the contract will be mobilized from IKM Subsea HQ in Norway, whereas the contract will be run from IKM Subsea Singapore, through its affiliate; IKM Subsea Indonesia
IKM Subsea would be providing the in house built Merlin WR200 Workclass ROV and the Sub Atlantic Mohican Observation ROV together with all necessary toolings and personnel onboard the rig to support the operations.