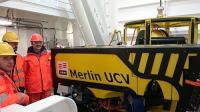 IKM Subsea was awarded a 5 + 5 year contract by Norske Shell in 2015 and the work has now commenced.
The Merlin UCV ROV is successfully integrated to the Siem Pride and ready to commence services. In addition to the ROV service, IKM Subsea provides IMR related engineering, maintenance of Norske Shell's tool pool, as well as handling survey through business partner iSurvey.
The 2016 scope of work will include several inspections on Norske Shell's deepwater field Ormen Lange and Draugen. Amongst the service to be performed this spring are pipeline surveys, structure inspections, wellhead inspections, and AMT recovery. This work will continue to add valuable experience for IKM Subsea as a supplier of complete IMR services.
Norske Shell requires high quality solutions in a cost effective manner. This is a challenge, but also a great opportunity for IKM Subsea to push the limits of what is considered the industry standard and to evolve as a company says Hans Fjellanger, Business Development Manager of IKM Subsea.
Dedicated to the project is the Merlin UCV, an ultra-compact work class ROV customised for IMR and drill support. The Merlin UCV represents a fully electrical ROV system using a seven thruster propulsion system configured to provide unsurpassed thrust and lifting capability ratio due to the compact size. Due to these factors, it's estimated less time to perform scope of work compared to conventional hydraulic ROVs.