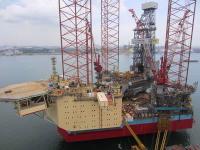 IKM Subsea has been awarded a 1+1+1 year contract by Statoil for ROV drill support service. The contract includes ROV services onboard Maersk XLE 3 . Maersk XLE -3 is a jack -up rig to perform drilling at the Gina Krog field.
"The fact that Statoil reward us with our second drill support contract, indicates that the market has noticed IKM Subseas's good progress. " Say's IKM Subsea Business Development Manager, Hans Fjellanger .
IKM Subsea has already won several drill support contracts in Norway, but also internationally, this has, and will give us useful track record for achieving IKM Subsea's expansion plans for the future.