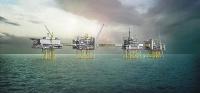 IKM Testing Thailand Co. Ltd has been awarded the service contract by Aibel for the Johan Sverdrup Drilling Platform.
The platform deck for the drilling platform will comprise three modules. Aibel is to build the largest module, the main support frame (MSF), at the company's yard in Thailand. Work on combining the three modules will start in the autumn of 2017. The finished platform will be handed over to Statoil in the second quarter of 2018.
"We are proud to retain the role as a Vendor to Aibel, and appreciate the trust they show us by the award of this contract," says General Manager William Tan.
The Scope of Subcontract Services includes provision of labor, equipment and consumables to carry out the onshore works for Chemical Cleaning and Hot Oil Flushing.
Project is scheduled to commence in January 2017 over a period of 4 months in Thailand.