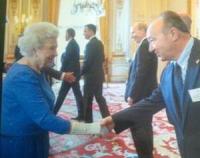 For the second year in a row, Ikon Science has been named as a winner of the Queen's Award for Enterprise. In 2014, Ikon GeoPressure had won the Queen's Award in the International Trade Growth category. Now the whole company receives this distinguished acknowledgement for its achievements.
'We are very honoured to receive the Queen's Award for Enterprise, the highest accolade forbusiness enterprise' said Martyn Millwood Hargrave, CEO. 'Ikon Science has received this award in recognition of its outstanding performance in growing International Trade. We have increased overseas earnings by 455% over the last six years and we now export to over 200 companies in 44 countries which include markets in the Americas, Africa, the Middle East and Asia.'
Ikon Science started up in South West London. Backed by investors including Shell and Tullow Oil, and building on close relationships with a number of leading academic institutions such as Imperial College London, Heriot-Watt University Edinburgh and Durham University, the company has been able to develop a unique breed of software modelling technologies combining ease of use, cross-domain integration and rigorous scientific content. These are built on the company's RokDoc® software platform. A number of targeted acquisitions over the past 10 years has increased the technology footprint and supported the push to strengthen international business.