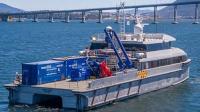 Unprecedented savings have been won by Australia's innovative subsea services company, Dive Works, for their oil and gas clients through the imaginative deployment of their Saab Seaeye Leopard electric robotic vehicle.
The Saab Seaeye Leopard performed seemingly impossible IRM work scope in Bass Strait, says Dive Works, which previously could only be achieved by large and expensive hydraulic systems and divers.
In what is considered to be a world first, Dive Works manoeuvred the Saab Seaeye Leopard and a 1.25 tonne diamond wire cutter, supported by a lift bag, deep inside a platform structure to slice through the metre-diameter steel pipe and remove it from the site.
Millions of dollars were saved for their client, says Dive Works, by utilising the Leopard's size, power, agility and manoeuvrability to its best advantage.
It was their innovative adaptation of the Leopard to perform the complex task that made a quick and cost effective solution possible, suggests the company.
Saab Seaeye says Dive Works is showing the world how big savings can be made in the oil and gas industry from technological advances in electric underwater robotics, as smaller, smarter and more powerful vehicles are adapted to undertake much larger tasks.
Dive Works' managing director Andrew Ford applauds the Saab Seaeye Leopard's overall design: "Our Leopard has completed over 750 dives, it is the most powerful ROV of its size in the world and we continue to maximise its capacity in extreme conditions and on extreme tasks with on-going success."
Owning and operating such a powerful, smart-sized system has allowed Dive Works to employ a new 34-m, specialist, high speed, smaller-than-usual support vessel, that is custom-configured and ideal for emergency response.
"We now have a vessel with a speed of 19 knots which can be mobilised and reach a job 400 miles away within 24 hours - and go places big vessels can't go. We can access ports nearer the work site, move closer inshore and get closer to the job – and a speedy vessel means we can stay out longer, thus extending the weather window and saving the client money," says Andrew Ford.
Dive Works has also successfully installed a live video feed from their Leopard where clients can log on from anywhere in the world and view the work being done subsea. This advanced technical application allows clients to make real time decisions, which saves significant time and money.
There is a lot to like about the Saab Seaeye Leopard, Andrew Ford says. "The 30 tonne complete package has a much smaller footprint, faster mobilisation time, lower maintenance costs, and needs far fewer staff at the worksite."
He goes on to list the tasks successfully completed by the Leopard:
Penetrated deep inside a complex platform structure to perform heavy-duty repair work and deploy underwater rigging to locations larger vehicles could not access.
Performed a 490 km long PNG pipeline survey fitted with camera booms and wheeled skid.
Operated a crawler to inspect welds on a number of platforms in extremely shallow water.
Worked a 36,000psi water blaster for cleaning platform legs to bright metal.
Inspected platform risers whilst handling 200 kilos of sensor equipment.
Important for Andrew Ford is the Leopard's ability to maintain a stable work platform whilst working with heavy tooling in adverse conditions – made possible by its iCON intelligent control architecture and 11 powerful thrusters.
"For a vehicle of its size, I also like the iCON intelligent control architecture that allows even more interchangeable tooling and survey sensors to be installed," says Andrew Ford.
This is helped by the Leopard's new large open payload bay that allows for ample systems to be installed on sliding trays for rapid reconfiguration and easy maintenance.
Should the Leopard suffer multiple equipment damage, it has a chance of remaining on task, as iCON allows the vehicle to 'think for itself' and independently manage each intelligent device on the vehicle to create a state of auto redundancy.
On a regular basis, the Leopard's state of health can be monitored through remote diagnostics to anywhere onshore.