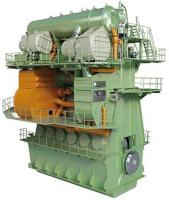 Hyundai's Ship Building Division (HHI-SBD) has finalised a contract for 2 x Suezmax tankers for Turkish shipowner, Ditas Shipping. The 158,000-m3 crude-oil tankers will each be powered by individual MAN B&W 6G70ME-C9.5 two-stroke main-engines that feature integrated Exhaust Gas Recirculation (EGR) systems. While there are already IMO Tier III-compliant vessels with EGR systems in service, the Suezmax newbuildings will be the first vessels with keel-laying after 1 January, 2016 to be officially certified as complying with Tier III emission restrictions within existing North American NOx Emission Control Areas (NECAs) and the United States Caribbean Sea NECA.
EGR is a NOx emissions-control technology that works by recirculating a portion of an engine's exhaust gas back to the engine cylinders. MAN Diesel & Turbo originally developed, designed, and manufactured the first EGR system for a two-stroke marine diesel engine for operation on a container vessel in service in 2010.
Following efficiency optimisation trends in the market, MAN Diesel & Turbo thoroughly evaluated the possibility of using even larger propellers and thereby engines with even lower speeds for the propulsion of tankers and bulk carriers.
Such vessels may be more compatible with propellers with larger diameters than designs so far used, and therefore able to facilitate higher efficiencies following adaptation of the aft-hull design to accommodate a larger propeller. It is estimated that such updated aft-ship designs with the G-series of engines offer potential fuel-consumption savings of some 4-7%, with a similar reduction in CO2 emissions.
Simultaneously, the engine itself can achieve a high thermal efficiency using the latest engine process parameters and design features.