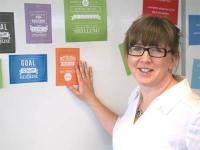 On the eve of its 10th anniversary, imorph continues to create positive and sustainable change across technical training for the oil and gas industry by unveiling a series of strategic and operational planning courses.
The latest addition to imorph's ever-evolving portfolio, Brilliant! Planning is the only programme of its kind available in the UK outside London. The operational and strategic planning essentials courses build upon Brilliant! – imorph's exclusive training and change programme, which was launched alongside the company, in 2005.
Recognising increased frustrations with planning inefficiencies among clients and across the oil and gas industry, imorph collaborated with Harry Capper, an industry planning expert who brings over 30 years' experience, to develop a series of planning courses for the Brilliant! programme. Offered in both bespoke corporate and open "public" packages, the Brilliant! Planning programme takes delegates through the core principles and theory of best practice planning, transferable to any workplace, rather than focusing on any specific software. Equipping delegates with the skills and knowledge to excel in their own planning roles, each course also enables them to introduce effective planning practices to their team and wider organisation.