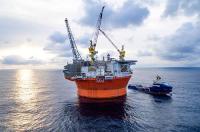 Risk of spills and leaks from offshore oil and gas production is a major challenge and threat to the environment. A new measurement method based on research and development can help prevent disasters, with major economic and environmental consequences.
Today's technology is not able to detect leaks at an early stage, hindering continuous monitoring of environmental effects of emissions. In cooperation with Kjeller Innovation, NGI (Norwegian Geotechnical Institute) is developing a PAH-sensor, which enables online measurement and monitoring of hydrocarbons in water. The lack of available technology for such monitoring is currently a limiting factor for oil companies to monitor their own business, as well as the ability of the authorities to set requirements.
"Pollution from produced water dilutes in very large volumes at sea, which means that the substance you want to measure, will quickly disappear. Monitoring of hydrocarbon emission over time requires technology that has high precision at low concentrations. Our new PAH-sensor is capable of this, and enables online measurement and monitoring of hydrocarbons in water," says Espen Eek, NGI's Project manager and Technical Lead for Contaminated sediments.
It is possible to measure with far higher sensitivity, precision, and stability than with current solutions, utilising the new groundbreaking method. The method for online monitoring and measurements close to background levels provide the authorities and oil companies with new opportunities to ensure a continuous identification of the risk of oil spills, based on real time data. This will also allow for early warning and localisation of any oil leaks.
"Some of the best innovations are created through collaboration between research and industry," says Joachim Paasche, Director for business development at Kjeller Innovation. Together with the oil and gas operator Eni Norge, NGI and Kjeller Innovation are testing the method and the new equipment. As the operator of Goliat, the first producing oil field in the Barents Sea, ENI Norge would strives to be in the lead in terms of environmental monitoring.
A prerequisite from the authorities for the approval of new licenses in vulnerable areas, are significantly enhanced solutions for environmental monitoring. Prior to carrying out an offshore test during the 2018, the new technology will be thoroughly tested in the coastal environment in the Oslo fjord, Norway.
With the new PAH-sensor, Kjeller Innovation and NGI ensures that ground-breaking research benefits society – both now and in the future.