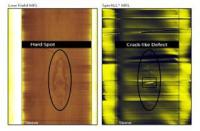 Pipeline hard spots: created due to localized quenching of steel during the manufacturing process. A potential threat to pipeline integrity, hard spots can become brittle and crack with time and under certain conditions. As such, operators with an environment conducive to the development of these cracks are very interested in detecting and addressing the threat before they contribute to a failure event.
A major US pipeline operator recently suspected hard spots with potential for cracking on a section of one of its 30-inch pipelines. The operator needed the ability to not only locate the hard spots, but to detect cracking initiated within the hard spots themselves. This level of characterization would provide the operator with a means to prioritize, allowing the operator to address the most critical hard spots first.
As part of the commitment to safe and reliable operation, the operator requested support from global pipeline solutions provider T.D. Williamson (TDW) – to provide improved detection and characterization of its hard spot integrity threats. The technology selected was the Multiple Dataset Platform (MDS) with SpirALL® Magnetic Flux Leakage (SMFL). MDS utilizes multiple technologies, on the same tool, to overcome the limitations of individual inspection technologies. The platform includes Deformation, High Field Axial Magnetic Flux Leakage (MFL), Patented SpirALL® MFL, Low Field Axial MFL, and XYZ Mapping.