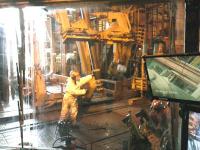 Deep Casing Tools has seen an increase in demand for its casing and completion technology products. This development has resulted in sales in excess of half a million pounds this year to new clients alone. Deep Casing Tools provides a range of innovative tools designed to land casing and completions at target depth within oil or gas wells.
Supply agreements signed with major contractors in Malaysia and Vietnam earlier this year has increased sales from local operators. More than 30 tools have already been dispatched this year to the Middle East, Far East, the USA and Canada, increasing the number of tools sold to 270.
This development comes at a time of growth in the company after reporting that it has doubled its revenue year-on-year to £9m in 2014.
Lance Davis, Director of Deep Casing Tools, said: "New clients in Europe, the Far East and the United States have increased tool demand to improve the well construction process. A combined office and warehouse facility was established in the Jebel Ali Free Zone (JAFZA) in the United Arab Emirates earlier this year to support the growing customer base in the Middle and Far East. Additional sales and operational personnel were employed to support increased demand which has resulted in new orders. Trials are also underway with new operators in the Far East, which should continue a successful year for the company."