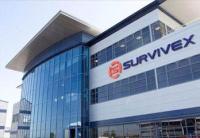 Survivex has attained approvals from the International Association of Drilling Contractors (IADC), American Petroleum Institute (API) and the health and safety training body, NEBOSH. These noteworthy approvals are a response to industry demand andfocus on teaching the skills required for global markets.
CEO, Andrew Green, who took the reins at Survivex in June 2014, explains "As part of our ongoing commitment to enhancing safety and competency levels across the Oil and Gas Industry, our recent focus has been diversification of our current course portfolio. Accreditations from IADC, API and NEBOSH address the specific safety and technical needs of our clients whichever region they operate within."
The IADC Drilling Industry Training system exists to establish consistency across multiple training providers globally. The body has approved Survivex's internally developed Banksman Slinger course, which covers the principles of banking cranes. Survivex is also permitted to deliver IADC Rig Pass training, a standardised safety orientation programme for new employees which prepares them for operating environments both on and offshore.