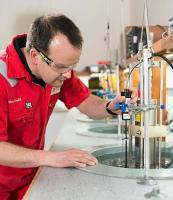 Aberdeen-based Ashtead Technology has become the first subsea services company to be accredited by the United Kingdom Accreditation Service (UKAS) for its state-of-the-art calibration laboratory.
This official seal of approval from UKAS demonstrates that Ashtead delivers professional and technically competent calibration of survey, positioning and oceanographic sensors crucial to their customers' subsea operations.
UKAS assesses a laboratory's calibration and measurement capability to produce precise and accurate test results by scrutinising the technical competence of staff, the validity of the test methods, and equipment used through a vigorous audit and validation process.
Allan Pirie, chief executive of Ashtead Technology, comments, "The achievement of UKAS accreditation is a further endorsement of the high quality, value adding service which Ashtead is delivering to reduce customers' operational risk. The calibration of subsea instruments is of critical importance in subsea operations and this accreditation gives our customers absolute confidence that this is being carried out to the highest standard."
UKAS is the national accreditation body for the United Kingdom, appointed by government, to assess organisations that provide inspection, testing and calibration services.