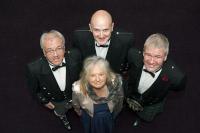 A pioneering consortium aimed at helping developing and emerging nations improve the efficiency of their oil & gas and renewables' industries was launched at a United Nations Association Scotland (UNAS) charity dinner in Edinburgh on Friday, November 8.
The landmark Ethical Energy Consortium (EEC) sees global-leading energy services company, Senergy, join forces with the UNAS along with organisational transformational management specialist, Miascape, and leading international Government advisory firm, Adam Smith International.
Around 100 high-profile business leaders attended the event at Edinburgh City Chambers where East Lothian MP and UK Parliament International Development Committee member, Fiona O'Donnell, was one of the guest speakers.
The launch also raised funds for the UNAS towards supporting young Scottish engineers who have volunteered to go to Africa to work on humanitarian and energy efficiency projects next summer.
Ian Williamson, commercial vice president at Senergy, said: "Global demand for energy has never been greater and Resource Nations recognise that energy growth is essential for economic growth. However, many Resource Nations need help gaining international best practice and insight into new and better energy options.