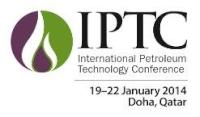 While sentiments for the oil & gas sector remain bullish, with Brent crude averaging $110 per barrel in real terms since 2011, prices of natural gas in markets like the United States have fallen sharply and currently stand at about one-third of import prices to Europe and one-fifth of those to Japan. Spending on energy imports has, at the same time, reached record levels in many regions, according to the latest World Energy Outlook from the International Energy Agency (IEA).
"Asia is buying LNG at more than three times the price of the United States – with mounting pressure for a regional gas trading hub to be set up either in Japan, Singapore or Malaysia. On the other hand, large energy producers, like Qatar, are lowering their prices in order to stay competitive. It will be interesting to observe if the balance will tip in favour of energy producers or consumers as huge investments continue to pour into oil & gas," said Waleed Refaay, International Petroleum Technology Conference (IPTC) Project Director for the Middle East.
Indeed, the IEA points out that global energy trade is already refocusing from the Atlantic Basin to the Asia-Pacific region.