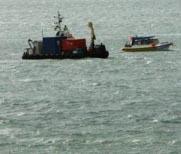 InfraStrata plc announce that the Company and joint venture partners were offered on 29 November 2013 two petroleum licences by the Department of Energy and Climate Change in the second tranche of offers for the 27th Seaward Licensing Round. One of the licences covers the offshore extension of the PL1/10 licence area in Northern Ireland and the second an area adjacent to the P1918 licence offshore Dorset.
Also on 29 November 2013 Dorset County Council resolved to grant planning permission for the California Quarry-1 well, the site for an exploration well to be drilled from onshore to offshore into petroleum licence P1918.
Commenting on the news, Andrew Hindle, CEO of InfraStrata plc said, 'InfraStrata is pleased to be able to add additional exploration areas adjacent to its existing licence areas in Dorset and Northern Ireland.
The approval for the well in Dorset is an important step in building a multi-well programme across our portfolio for the coming year.'