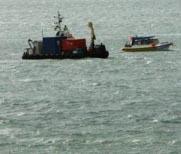 InfraStrata plc commences drilling operations at the Islandmagee-1 well in Northern Ireland.
The Islandmagee-1 well began drilling ('spudded') at 18:00 hours on 15 May 2015.
Drilling operations are expected to take around 5 weeks. The well will be drilled to a total drilled depth of approximately 1,700 metres.
The objective of the well is to confirm the feasibility of the development of an underground gas storage facility in salt caverns, by obtaining wireline data and core samples of the Permian salt to undertake laboratory analyses, including rock mechanical tests, to further define the design parameters and cost estimate for the project.