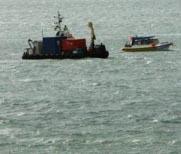 InfraStrata plc provide an operational update on its exploration drilling plans for 2014 ahead of its AGM which is taking place.
Licence P1918, Wessex Basin
The formal granting of planning permission for the proposed onshore to offshore exploration well in December 2013 included a condition that construction and drilling activities must take place between September and March. Plans are progressing well towards commencement of site construction on 1 September 2014, so that drilling may commence in November 2014.
The Company will need to obtain licences and consents from a number of stakeholders, including the Environment Agency and the Department of Energy and Climate Change ("DECC"), and the Health and Safety Executive. Arrangements will also be required to drill from an onshore licenced area, across which the well will be directionally drilled for 600 metres to access offshore licence P1918.