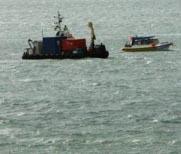 InfraStrata, together with joint venture partners Corfe Energy Limited (Corfe) and Brigantes Energy Limited (Brigantes), has signed an agreement with Southwestern Resources Limited (Southwestern) with respect to offshore Dorset licence P1918 (the "Agreement").
Southwestern is a new UK based company set up for the purpose of participating in oil and gas exploration and production in the UK.
Under the terms of the Agreement, Southwestern will acquire a 10% interest in the P1918 licence, subject to Department of Energy and Climate Change (DECC) approval, in return for funding 100% of the next £500,000 of expenditure on the licence and thereafter funding its own share. In addition, it has been granted an exclusive option to acquire a further interest in the licence in return for funding future drilling activity.