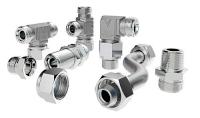 With the newly developed VOSSLok40 tube coupling system, VOSS is now offering users of 40° ferrule fittings a high-quality alternative. The system is based on the principle of tube forming established in hydraulics. With VOSSLok40 the company is transferring its many years of experience with forming systems for hydraulic connections into sectors that normally use ferrules. VOSSLok40 scores with its reliable process security, creates extremely tight connections and convinces with its cost effectiveness.
The range of applications of VOSSLok40 is highly diversified: the chemical industry, the energy sector, in process technology and in the automotive sector users are creating permanently secure tube couplings with it. The pure metal-sealing forming system ensures highly precise sealing at nominal pressures of up to 700 bar and temperatures down to -40° C. It is ideal for tubes with an outside diameter of 6 to 22 mm. The VOSSLok40 system comprises a wide variety of structural shapes such as angle, T or L-couplings. The coupling components are fabricated out of stainless steel as standard but are also available in special materials on customer request. Stainless steel 1.4571 and steel E235/E355, aluminum and CuNiFe (copper-nickel alloys) are suitable as tube materials.
Just as with other forming systems from VOSS Fluid, VOSSLok40 is also made out of three components; a conical sealing and retaining contour that is formed onto a tube end, a VOSSLok40 nut that comes silver-plated as standard and a VOSSLok40 coupling body. The mechanic shapes the cone structure at the end of the connection tube with the VOSSLok40 forming machine. During this process, the material on the tube surface is compressed and smoothed on the sealing radius. The high surface finish quality of the forming reduces the risk of leaks – even small surface defects on the tube are leveled out. The nut and coupling body are matched so that when the nut is tightened the sealing surfaces are pressed together tightly.
The mechanical shaping of the tube contour follows the principle of guided assembly. In contrast to ferrule fittings, the users of VOSSLok40 can tighten the nut with a tightening torque wrench in a manner that nearly completely excludes over and under-assembly. The high quality of the connection reduces the risk of expensive complaints and image losses. In particular in the series manufacturing of high-pressure applications, the new development convinces with its cost effectiveness: Not only are the costs for high-quality ferrules omitted but also the costs for their handling, warehousing and procurement.
VOSSLok40 meets the sealing requirements in the sector of the CNG R110 application and complies with all relevant tests in accordance with DIN EN ISO 19879.