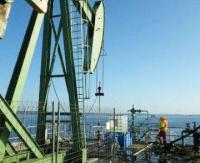 T.D. Williamson, Inc. (TDW) announced the successful inline inspection (ILI) of a key oil pipeline network that runs through Parentis Lake, a popular leisure destination nestled among pine forests in southwest France. The inspection program was carried out on twelve oil production lines and one oil transmission line near Bordeaux, and was the first time TDW supplied this service to Vermilion REP, a division of Canadian energy firm Vermilion Energy.
Parentis Lake is dotted with numerous oil platforms that Vermilion uses to extract oil from wells, down to 1.5 miles (2,500 meters). The lines connect with the platforms on the lake and transport the extracted material, an oil and water mix, to the decanting stations in Parentis. The oil is then transported to a storage area in Ambès, where it is delivered to refineries throughout France.
Custom solution protects lake and wildlife As Parentis Lake is an environmentally-sensitive location, all aspects of the operation had to comply with Direction Régionale de l'Environnement de l'Aménagement et du Logement (DREAL), France's strict environmental legislation. To ensure that the operation would conform to the stringent regulations, Vermilion retained TDW to assess the corrosion levels of its 4-inch, 6-inch and 8-inch oil production lines, utilizing a magnetic flux leakage (MFL) ILI tool. It was critical that TDW perform the inspections without affecting the environment, so additional precautions were taken to avoid contaminating the lake.