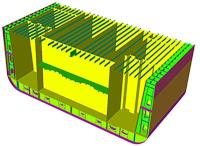 Engineers designing ship hulls and offshore floaters can now save time and money in the early design phase due to a breakthrough allowing transfer of 3D models from AVEVA Marine to Sesam GeniE, the two leading design and engineering software systems in the maritime and offshore market.
The new functionality, initiated by AVEVA to respond to the demand of the market, allows users to transfer AVEVA hull models into DNV GL's Sesam GeniE for strength assessment and code check according to DNV GL Rules. Now users can significantly reduce the time and effort spent in early design of ship hulls and offshore floaters, as they save the extra manhours it takes to create separate analysis models from scratch in two different systems.
Demands of new Class Rules
"With the new harmonized Common Structural Rules for tankers and bulk carriers entering into force, significantly more finite element analysis is required for hull approval by classification societies," says Are Føllesdal Tjønn, Managing Director of DNV GL - Software. "In today's market, with extra focus on efficiency improvement and cost reduction, the collaboration between DNV GL and AVEVA enables designers and yards around the world to meet this criteria," he says.