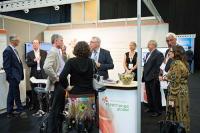 SPE Intelligent Energy 2016 (IE16) is underway in Aberdeen, UK with a call to action by investors to avoid "bad" CAPEX cuts, improve transparency and create real value through innovation.
The theme of the three-day event is "New Horizons: Intelligent Energy in a Changing World". The exhibition is showcasing the latest smart technologies and intelligent energy solutions at the seventh edition of the biennial event being held for the first time in Aberdeen.
Rob West, a partner with investment research company Redburn, presented at the opening scene-setter session. He said the industry must focus on meaningful capex cuts to generate long-term value and change. "We want to avoid project delays, under maintenance and sharp pull backs in drilling. The best companies are moving away from slash and burn reactions. They are looking at new, simple ways of designing and managing projects. What the investment community wants to see is sustainable capex reduction than can improve long-run returns."
The IE16 plenary session explored how intelligent energy solutions can help the industry through the downturn and create efficiencies in procedures and processes. It focused on different ways to manage asset integrity and how integrated and autonomous systems, across all operations, should be considered as integral to future activity.
According to analysis of recent oil and gas activity by Redburn, the industry cut CAPEX and OPEX by two-thirds in real-terms from 1980 to 2002. Labour productivity quadrupled, helped by new technologies.
"Currently investors are struggling to see how companies are actually deploying our capital," added West. "More transparency is needed on the actual technology that's being brought to bear and how it's reshaping cost for the industry. Investors will reward evidence for these value-enhancements. We really need to see companies thinking in the long-run, being counter-cyclical and improving their processes and that's the thing that really excites me. IE16 is giving the financial sector an insight into innovation and how the industry is adapting."
As in previous editions, the 2016 conference has been produced by SPE and comprises of a three-day technical programme with more than 75 papers covering topics including technology, integrated operations, workflow examples and solutions, leadership, cyber security and big data. The exhibition, organised by Reed Exhibitions, is showcasing new and developing technologies and expertise by leading operators, service companies and technology providers.