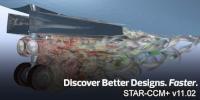 CD-adapco, a global provider of multidisciplinary engineering simulation and design exploration software, has announced the release of STAR-CCM+® v11.02, its industry-leading engineering simulation solution. This release delivers new modelling capabilities and brings productivity and usability enhancements that forward the company's mission to help customers discover better designs, faster.
"STAR-CCM+ v11 continues to emphasise our focus on Multidisciplinary Design eXploration (MDX)," says CD-adapco Senior VP of Product Management, Jean-Claude Ercolanelli. "Our primary objective is to equip our customers with the necessary tools to elevate their confidence in the simulation results and help them make critical design decisions quickly and with certainty, giving them a competitive advantage in the marketplace."
To this end, STAR-CCM+ v11.02 introduces Data Focus, a unique visualisation technique to explore and interrogate results interactively. Data Focus provides a live and interactive link between quantitative numerical data in plots and qualitative visual data in scenes. This link between quantitative and qualitative analysis allows the user to easily and effectively gain insight into the key influences on product performance.
"We are offering our customers an exclusive feature to explore their analysis results in an entirely new way," Ercolanelli says. "Data Focus directly addresses the challenges engineers face when trying to understand large sets of interdependent data and complex 3D vector fields. Users will deepen the interpretation of their simulation results, and will have a stronger insight which is needed to discover better designs."
STAR-CCM+ v11.02 includes 40 new features drawn from ideas submitted through IdeaStorm, the innovation forum exclusive to CD-adapco customers. These features elevate confidence with results, streamline simulation workflows and increase productivity.