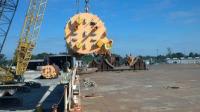 InterMoor, an Acteon company, has appointed Duncan Cuthill as general manager of InterMoor Marine Services Ltd in the UK.
Mr. Cuthill will report directly to Alan Duncan, managing director of InterMoor, and will be responsible for InterMoor Marine Services in the UK and Mediterranean regions.
Mr. Cuthill has a bachelor's degree in management systems from the Open University, a Post Graduate Diploma in systems practice and is a Master Mariner with extensive experience in the offshore oil and gas industry.
Following a 17-year seagoing career, he began a 10-year career at Trident Offshore in 1992, including five years as operations director.