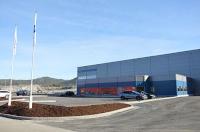 IOS InterMoor, an Acteon company, has announced the opening of its new mooring base in Fensfjord, Norway near Bergen.
Located on the Wergeland Base in Sløvågen, the facility will cater to all requirements for mooring equipment storage, supply, inspection and maintenance for IOS InterMoor and its customers.
The new base is ideally positioned to serve oil and gas rigs operating in the most active area of the North Sea, such as the Troll field, the Statfjord and Gullflaks fields, and the new Johan Sverdrup field.
The facility boasts modern office space, a large meeting room for mobilisation briefings and a 2,000 m2 warehouse, which will be used for inspection, maintenance and repair of mooring equipment, as well as for storage and preparation of mooring components prior to mobilisation. The outdoor storage space around the building is 25,000 m2 and asphalt covered.
The purpose-built facility was delivered ahead of schedule and within budget by Wergeland Group and their suppliers. In addition to the IOS InterMoor facility, the Wergeland Group have also built a new deepwater quay complete with bunkering facilities to enable multiple anchor handling vessels to work simultaneously on the base.
David Smith, managing director, IOS InterMoor, says, "With a high focus on cost reduction across our industry, this modern facility will improve the efficiency of our shore base activities and increase effective and safe handling of large diameter mooring equipment in all phases. Our goal is to develop the best mooring base in Norway, and we want our customers to know their vessels will be given priority when visiting us at our new Fensfjord facility."