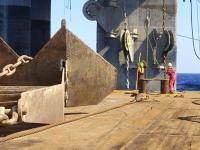 InterMoor UK Operations, part of Acteon's foundations and moorings business, has surpassed eight years and more than 2,520 projects without a single lost-time incident (LTI).
The safety record is held by InterMoor UK Operations – InterMoor Ltd, InterMoor Marine Services Ltd and ChainCo. Company operations span three bases, five storage yards and numerous quayside locations in the UK and globally.
Alan Duncan, managing director, InterMoor UK Operations, said, "Providing safe working environments and high-quality training for employees are vital for InterMoor. This milestone highlights the extent of our commitment to safety and the professionalism of our staff. It was achieved with the participation of the entire workforce, from quayside support personnel to senior management."
In 2015, InterMoor UK Operations opened a new base in Aberdeen harbour and continued its focus on safety. The new equipment at the facility was assembled with a focus on safe, effective and efficient operations.