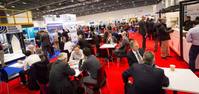 Oceanology International 2018 (Oi18), the world's premier conference & exhibition for marine science and ocean technology, is set to welcome even more international exhibitors and visitors than ever before. Expected to be the largest edition yet in the 49-year history of the event, Oi18 already has more than 160 international exhibitors booked and visitor registration is on track to beat the record 46% overseas attendance achieved at Oi16.
Central to Oceanology International's growth is global recognition that the London edition is a must-attend meeting point for commercial, government and academic organisations operating in diverse ocean industries, regardless of where they are based. With over 8,500 m2 occupied by 520 exhibiting companies from 33 countries, Oi16 was the most successful edition of the event so far, with 59% of exhibitors representing 80+ countries in Europe, Asia, the Americas, Africa and the Middle East.
Reed Exhibitions is expecting to accommodate an even larger international element to Oi18 and has ensured that all the tools are in place to make attending easy and cost-effective, including an extensive digital Exhibitor Hub, MyEvent networking tools for visitors, pre-arranged 1 to 1 meetings, an online accommodation booking system and the OceanSocial networking events all within easy reach of London's transport connections and hubs.
The Oceanology International portfolio of events also includes the Oi Americas and Oi China exhibitions, and offers a series of global forums where industry, academia and government share knowledge and connect with the marine technology and ocean science community, sourcing technology and solutions and improving their strategies for measuring, exploiting, protecting and operating in the world's oceans.
Explaining why exhibiting at Oi18 is important, Krista Brunette, Marketing Coordinator for oceanographic instrument manufacturer RBR Ltd in Canada says, "It's by far one of the biggest shows. With a wonderful group of exhibitors, it really draws in a large international crowd. Exhibiting at Oi 2018 allows us to connect with many of our customers, and other industry professionals. It also allows RBR to be discovered by visitors, perhaps considering our instruments for future projects and deployments."
Allan Nygård Bertelsen,Managing Director of Copenhagen Subsea, Denmark, says, "We are returning to Oceanology International 2018 as the 2016 event in London was a great place to meet potential customers. It was also a perfect exhibition for us to be able to showcase our products to the correct markets."
Daryl Tze Kong Lee, Marketing Coordinator for Advanced Navigation, an Australian company that specialises in the manufacturing and development of navigation technologies, says, "We are returning to exhibit at Oceanology International 2018 because navigation and positioning is critical to many of our marine customers. Therefore, we feel that Oceanology gives us the right exposure and opportunities to connect with potential customers in this market."
David Ince, Oceanology International Event Manager, Reed Exhibitions, says, "It is exciting to see so many international exhibitors and visitors signing up for the show. We have extensive representation from overseas exhibitors from all over the world who recognise the diverse technical and geographical scope, which enables them to expand their visibility to potential customers in a global forum. 95% of stand space is booked, but there is still time to get involved and join the global community in London next March."
The world's premier forum for thousands of marine science and ocean technology professionals, has launched online registration for a newly expanded 2018 edition from 13-15 March at ExCeL London.
For more information and to register, visit: www.oceanologyinternational.com