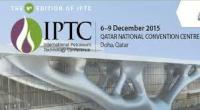 This year's IPTC will include two CEO Plenary Sessions and five Panel Sessions, addressing the most significant trends, challenges and opportunities facing the industry today and in the future.
Event co-chairs will be Saad Sherida Al Kaabi, President and CEO, Qatar Petroleum and Andy Brown, Upstream International Director, Shell. There will also be high profile speakers from Saudi Aramco, Total, KPC, ConocoPhillips, ADMA-OPCO, Maersk Oil & Gas, GE Oil & Gas, Medco Energi International, CGG and many others.
The technical programme will consist of 62 sessions looking further into a range of hot topics in the region. Disciplines covered will include geoscience, integrated geoscience and reservoir engineering, drilling and completions, reservoir, production and operations, engineering, projects and facilities, field development, mid-stream gas, and over-arching industry issues.