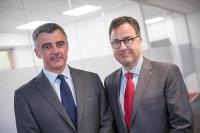 International SOS, the global medical and travel security risk services company, has announced the expansion of its Aberdeen Offshore and Occupational Health Centre in response to increasing client needs.
The new facilities, at Forest Grove House on the Foresterhill campus close to Aberdeen Royal Infirmary, provide additional top class medical resources, including a psychotherapy suite to deliver enhanced support for patients, as well as additional office space.
The improved Health Centre – which houses the 24/7 response centre – also features a new telemedicine facility to provide a sophisticated level of medical care to personnel in the North Sea and beyond, through its internationally recognised telehealth capability.
It also supports the new Digital Consultation service launched earlier this year, which provides video conferencing to perform return to work and routine occupational health consultations, often required by international oil and gas firms.
Lawrie Campbell, Regional General Manager Northern Seas and Medical Services Europe, says, "Aberdeen is a key location for our clients and our enhanced services will continue to provide a centre of excellence in offshore and occupational health and support. Our vision has always been to deliver a seamless, integrated service to clients and their operations across all sectors of the Northern Seas. Led from our operating centres in Aberdeen and Norway we are also supported by the International SOS global network of experts, supply services and assistance centres. The Aberdeen Offshore and Occupational Health Centre will augment our clients' health and safety performance and safeguard their operations."
Dr Mike Braida, Regional Medical Director at International SOS, says, "Our new Aberdeen facilities further enhance our medically led approach to supporting our clients and assists them in exercising their duty of care to their employees. "By offering high quality medical care we help our clients increase productivity as well as giving their staff additional support as and when they need it."