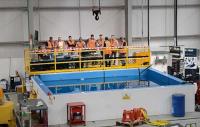 Internationally developed pioneering subsea technologies aiming to improve working practices in the offshore sector have been showcased in Aberdeen.
Organised by Subsea Commercial Services (SCS) in conjunction with Forum Energy Technologies, the two-day event featured specialist equipment manufacturers from the US, Canada and France who took the opportunity to highlight developments in a range of areas.
Using Forum's newly opened purpose built 6x5x4.5m test tank in Aberdeen, representatives from ITER systems, EMO Marine Technologies and Remote Ocean Systems (ROS) were able to display a number of products that had not previously been demonstrated in Scotland's North-East.
Christian Blinkenberg, sales director for global services at Forum, says, "Financial pressures across the industry have placed stricter limits on those travelling to international conferences and exhibitions so it makes sense to bring the technologies to Aberdeen. A range of systems and tools were showcased during the event for the very first time to those in the local subsea sector. We wanted to offer clients the opportunity to take an in-depth look at products they may not have experienced before now. Our test tank is the ideal facility for being able to fully demonstrate and test a range of scenarios highlighting technologies that could play a role in supporting the offshore industry to operate more efficiently."
Products on show covered a range of areas including inspection repair and maintenance, construction work, pipeline inspections, pre-route surveys, offshore windfarms, defence, harbour and inland hydrographic surveys.
Systems and applications shown for the first time in Aberdeen included ITER's Bathyswath-2 seabed mapping and imaging system and EMO's Domino 7 MkII and Nano MUX fibre optic multiplexers. ROS also unveiled its L350 LED lights and P15 pan and tilts.
Founded in 2011, SCS represents leading international subsea engineering and manufacturing
companies. The firm offers clients a strategic blend of business development services and growth strategies to clients in subsea engineering, ROV, survey, marine and marine renewables sectors.