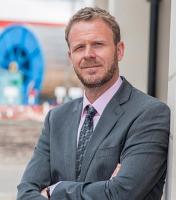 The Board of the International Well Control Forum (IWCF) has announced the appointment of Antony Quin as the organisation's new Chief Executive Officer.
Quin officially takes up the position of CEO from 1st July 2017 and is based in the IWCF Head Office in Montrose, UK.
Zdenek Sehnal, Chairman of IWCF says, "We are delighted to announce Mr Antony Quin as the new CEO of the International Well Control Forum. Mr Quin has a proven track record in successfully developing the organisation and enhancing well control training and assessment at IWCF. We look forward to working with him as we move forward with important industry initiatives."
Quin joined IWCF in 2013 in the position of General Manager and became Acting Chief Executive Officer in July 2016. During his time in these positions he has helped introduce significant changes to the organisation, including the introduction of a new online administration and assessment system, FORUM.
Quin will lead the organisation forward with the introduction of new training and assessment methods to support both the Drilling Well Control and Well Intervention Pressure Control syllabi.
Antony Quin comments, "I am delighted for the opportunity to help build upon our recent successes. I look forward to leading the IWCF team forward and working with our Board as we move forward with our plans to continue to improve competency within the industry through well control training, assessment and certification."