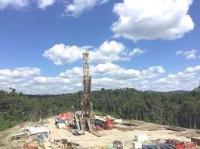 InterOil Corporation has assigned one of its drilling rigs to the Elk-Antelope appraisal program in Papua New Guinea.
The PRL 15 Joint Venture, which is operated by Total, will use a rig that InterOil has under contract with High Arctic Energy Services to drill the Antelope-6 appraisal well later this year.
Comment
InterOil Chief Executive Dr Michael Hession said the move reflected the joint venture's priority to complete field appraisal.
'Appraisal is a key step for the Papua LNG Project, InterOil's most important and immediate focus in our commitment to Papua New Guinea,' Dr Hession said.
Dr Hession also said InterOil has decided to defer its discretionary drilling program, including appraisal of the Raptor discovery, until the Elk-Antelope appraisal program was complete.
He said the company also continued to streamline its operations and reduce costs after handing operatorship of PRL 15 to Total in July this year.