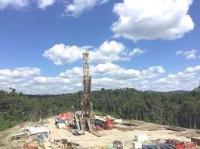 InterOil Corporation will increase its interest in two key licenses following the withdrawal of Pacific Exploration & Production Corporation ('Pacific') from Papua New Guinea.
The withdrawal of Pacific, formerly Pacific Rubiales Energy Corp., is consistent with its strategy of focusing on Latin America.
As a consequence of Pacific's withdrawal, InterOil will increase its interest in PRL 39, which contains the Triceratops discovery, and also in PPL 475, which contains the Raptor discovery.
InterOil Chief Executive Dr Michael Hession thanked Pacific for its support as a joint venture partner and for its investment in the discovery and appraisal of resources in Papua New Guinea.
'We are pleased we will now own more than 78% of the Triceratops and Raptor discoveries,' he said.